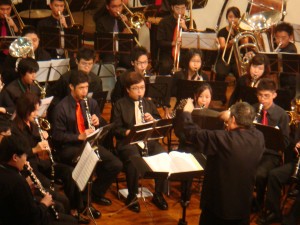 Novo Winds is a non-profit community band formed in July 2010 under the auspices of the Toa Payoh South Community Club.
The Latin term "de novo" is defined as "anew; afresh; from the beginning"; similarly, Novo Winds seeks to broaden the scope and function of band music by incorporating new performance concepts and musical directions, as well as to reach out to more audiences across a wider age group.
Through popular arrangements and original compositions, it is hoped that Novo Winds will also appeal to players who are keen on expanding the diversity of local band music and bring its standard to a new level.
Even as a relatively new band, Novo Winds has participated in several outstanding performances, including an outdoor performance at the Toa Payoh HDB Hub as part of the People's Association 50th Anniversary Celebrations in September 2010. In addition, Novo Winds organizes the "Mirificus" and "Scherzo" concert series at various performance venues islandwide bi-annually.